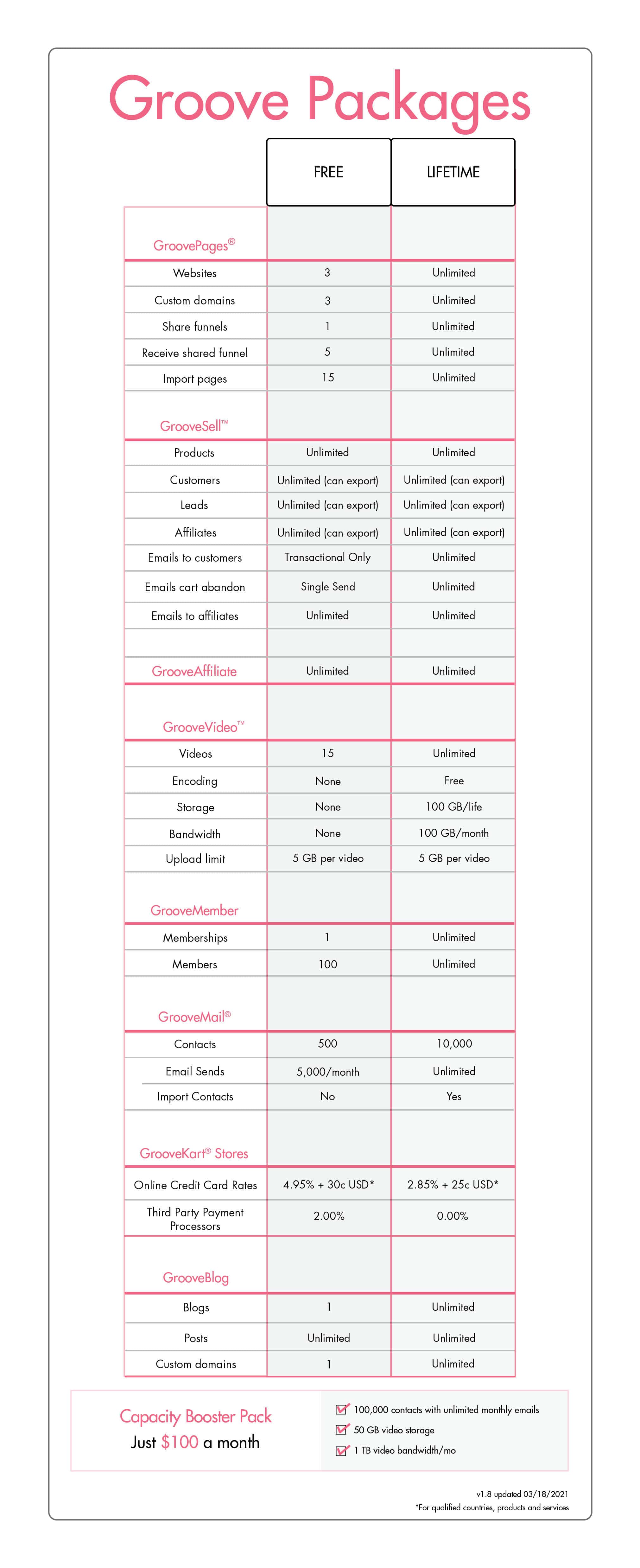 Groove all in one CRM - Email and Auto Res-ponder


Create tags for each email sequence, for example for example products #1 would have one sequence then product #2 would have another sequence. By creating follow up emails for customers that bought product #1 and not product #2. You could send a sequence that reminds customer about product #2 and the benefits they will receive to solve a problem.
Text and voice SMS broadcasting


I started this Groovemail review inspired by the Tex and Voice feature listed in this software. People read more text's than they do email's, furthermore its a captive audience demanding attention.


Groove Funnels Integrations
GrooveFunnels integration app's offers a large suite of tools for marketing professional and people just starting out. The tools that you have access to will depend on the membership that you've selected.The software is a great alternative for many business varieties including the following:-
· Mail Chimp
· Aweber
· Kajabi
· Active Campaign
· Campiagn Monitor
· Get Response
· Go To Webinar
· Mautic
· PerkZilla
· Pipe Drive
And More ......


Groove Funnels Pricing


GrooveFunnels has a free plan that gives you access to some of its most basic features.
For a limited Time you can create 3 x website , sell unlimited products, attract affiliates all without any fee's.
Free Plan also includes free email application.
GrooveFunnels Base plan:- is free.
GrooveFunnels Silver plan:- $99/month.
GrooveFunnels Gold plan:- $199/month.
GrooveFunnels Platinum lifetime:-$1,397 ( sorry, limited time only)
GrooveFunnels Package Pricing
Groove Digital Academy - Marketing Training


GrooveDigital Academy is now available to Everyone!
GrooveDigital Academy is your resource for marketing training, webinar replays and courses.
The best part is, all Groove members can sign up for a free account.
The academy teaches you all things digital marketing and e-commerce marketing.
In GrooveDigital Academy, you get to be a part of live training every Tuesday and every Thursday at 6 PM EST.
You also get an extensive library of articles to keep you updated about the platform.
Groove Magazine - expert tutorials


It's important to keep up as technology and effective strategies change rapidly.
Experts with proven processes, real results, and secrets they'll be sharing with you monthly tutorial and training on copy writing, Email marketing, selling products via Groove Kart and Groove sell.
When you reserve your seat, you'll get an email each week letting you know the expert for the week and how you can benefit from the information and strategies they will share. From time to time one of Groove's own team members will do the training… and we've even featured brand new Groovesters and helped them launch their products through this series!
Summary - Groove Pages Pricing Check out the Below Video